5 Tips for Valentine's Day - With or without a date
It's Valentine's Day <3
5 tips to enjoying it - with or without a date!
So it's that time of year again - the day where only love is in focus. That, and chocolates, flowers, and snippets of poetry on ruby red valentines. With all the fuss & frills, how is that so many people still take Valentine's Day to heart? Part of it's because it is fun and we love to be a part of it :-) However, it may be a bit tiring to hear about love all of February, especially if you just don't have those feelings for anyone (yet) - but who says that Valentine's Day should be only for lovers? Our love of self is at least as important as our love for others, and so here we have 5 good reasons to celebrate today, along with a date - or not!

1. The Classic: Eat a romantic meal at your favorite restaurant.

With a date: It's just more fun to go out and eat with a date, if we are in fact talking about romantic dinners with roses and champagne. 5-course meals, good wine, and long gazes into each other's eyes - what's not to like?!

Without a date: Romantic dinners are more fun if you make a little fun of them - and maybe go about it in an unconventional way. What do we mean? Take your best girlfriends out for a night cruising city style, drink lots of champagne, and give each other roses! So now it canot be better! At least it's better than a first date when you just sit opposite each other and must continually find new topics to talk about :-(

2. Get cozy: Go to the movies!

With a date: Going to the movies can be a pretty good idea if you want to avoid the embarrassing silence that can happen on a date. What's there to talk about when you don't know each other so well yet? Answer: The movie! And then of course there will also be the opportunity to snuggle up close to each other in the dark theater - there's a reason why we call the back the "kissing row!"

Without a date: Let's face it - it is the best thing in the world to watch a movie alone. Why? Then there is no one to distract you from the intriguing plot, no one to talk to you a little too loud during the movie, no one to eat half your well-earned cinema snacks :-) If that doesn't tickle your fancy, seeing a movie with a good friend is always awesome, especially if it's a bad horror movie!

3. The Fairytale: Get out and travel!
With a date: There's nothing as romantic as weekend trips with your significant other. The obvious Valentine's trip would of course be to go to Paris, but you could, for instance, also take a spa trip to the natural hot springs found in snowy Iceland! No need to limit yourself here, it's for love remember? Long walks, warm evenings in front of the fireplace, and hot chocolate in a comfy bed. Perfect!

Without a date: Experiences are good to have together - but they can be even better when you get to experience them alone. If you choose to get away from all the Valentine's Day hysteria, just go somewhere where no one knows you, and expect the unexpected. You might meet new interesting people, have fun conversations, and then you can decide for yourself what you want to see, without having to worry about what that someone special might want to do too :-)
4. Live dangerously: Stand on skates!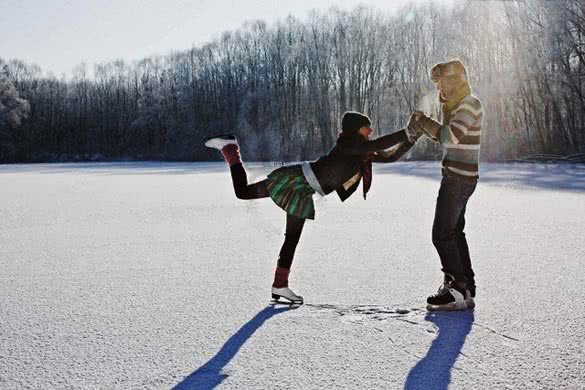 With a date: Like bambi on ice, the sweetest and supportive couples keep each other going, and since you learn as you go too, you can actually focus on each other and how pleasant it can be to skate around on a snowy lake (or air-conditioned ice rink)! Of course be sure to celebrate the victory on ice with some more hot chocolate together afterwards! One pointer: a good way to start all this skating is to hold hands, not to prevent yourself from falling down, just to hold on to eachother :-)

Without a date: Bambi on ice is a highly romanticized picture when you cannot figure out how to stand on skates. If you come to skate sans date, then you won't have to cling to anyone's arm or break out in cold sweats for fear of falling and hurting yourself in front of people you care about. This means it doesn't matter how silly you look, so go crazy and have fun! Or better yet, do it with a group of good friends that you can laugh with all the while!
5. Movellas-style: Read aloud from your favorite book / fictional universe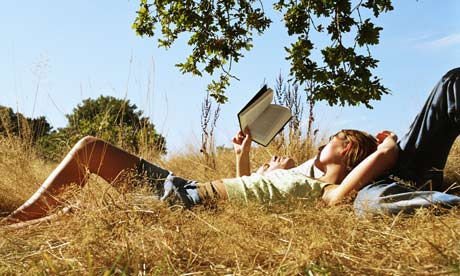 With a date: It doesn't get much cozier than reading to each other and imagining that your two favorite fictional universes somehow unite. In this way you'll get to know each other better as well as get some insight into each other's literary tastes and fantasies. It also creates a relaxing atmosphere to read because you do not need to find anything else to talk about ;-)

Without a date: It's a beautiful thing to read aloud and share your innermost thoughts and inner universes, but it can also be quite boring if your date's favorite book is Where's Waldo? ...Or the biography of a cold-blooded serial killer. It may therefore be a much better idea to choose to read aloud to yourself - which will do wonders for your oration skills - or read to a friend you know loves good books and exciting universes!

We would LOVE it if you all came up with more suggestions on what to do on Valentine's Day - with a date or alone of course! Write it in the comments box below.
Happy Valentine's Day!