12 Things You Didn't Know About 5SOS
We dish the dirt on your fave Aussie foursome.
Five Seconds of Summer are sizzling hot right now. But we bet even their biggest fans have missed some of these little-known gems about the pop-punk sensation that's been blowing up our airwaves.
The Movellas 5SOS fanfic app is packed with stories featuring our fave Aussie boys and it's completely free. Simply search for '5SOS' on the App Store and download it to your phone, or find it here.
For Ashton, it was far from love at first sight…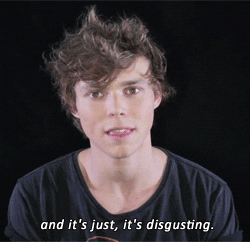 It's impossible to imagine 5SOS without their dreamboat drummer, but before Ashton joined the band, he was far from a fan. In fact, he hated their antics on Youtube–messing up song lyrics and generally mucking around. Who could have predicted such a change of heart?
...But could bromance be on the cards between two other bandmates?
Now don't get too excited, but Calum did admit that if he was a girl he would be most likely to date Michael. Ahoy there! Is that a ship I spot?
They don't underestimate the power of Social Media
'Unplugged', the band's first EP skyrocketing to No.3 on the iTunes chart in Australia, without relying on ANY promotion beyond Facebook and Twitter. And they continue to share their appreciation for all the fan support by being incredibly active on social media–even following back Twitter users that include 5SOS in their bio or username (hint, hint)!
They're after Niall Horan's hair!
When asked what member of One Direction's hair they would most like to dye, they all agreed that Niall would rock a pink 'do. Keep your hands off, boys!
Luke is a bit of a nightmare roommate.
The rest of the guys agree that he takes the longest in the shower–which he has a habit of flooding. He's also guilty of stealing Calum's underwear. Naughty boy.
Michael may have told a tiny fib to get Ashton on board.
According to 'Billboard', Michael told Ashton that their gig at Sydney's Annandale Hotel would be performed "to 200 screaming fans." As it happens, 12 people showed up–including Ashton's mum!
When it comes to love, the boys are looking for someone extra special.
As reported by Entertainmentwise, the lads look for quirkiness, self-confidence and humour in the opposite sex. Offbeat girls, get in line!
They're from the wrong side of the tracks
They may be living the dream now, but the band's hometown of Rivertown was far from glamorous. Aston even told 'The Guardian' he was nearly stabbed there.
One bandmate has unusual underwear preferences.
It's Michael! He has 'My Little Pony' pants.
They have a champion ice-cream eater in their midsts…
It's Luke! He beat the rest of the boys in a competition by eating 17 bowls of the stuff.
They know how to celebrate in style…
...with 'a big group hug and then a Nandos'. Who said rock 'n roll was dead?
They're itching to get more material out there.
This is the one we're most excited about. In a recent interview, Ashton made it clear that the band isn't looking to slow down anytime soon, and will ideally be releasing a brand new album within the next year.
Got any other hot 5SOS goss to share? Spill it in the comments. And if you can't get enough of the boys, check out these awesome 5SOS fanfics.
Get the app here.