Once upon a time, in a land called Movellas...
...We decided it was time to talk about reinventing fairy tales! For centuries, these tales of wicked witches, plucky young princes and beautiful heroines have captivated our imaginations. Not only do they make for great escapism, but these classics have served as moral lessons; reflecting the society that produced them.
But the best thing about these stories is their potential to be reimagined. There are countless fairy tale adaptations that put their own fresh new spin on the genre. Think 'Shrek', which brings together an amalgamation of fairy tale characters and rejects the idea of handsome knight in shining armour or a passive, helpless princess. More recently, 'Once Upon a Time' has hit our screens, transporting fairy tale characters into our modern day world.
So, join in the fun and shake things up a bit. Which fairy tale would you choose to rewrite? And, because we love a good cross-over, what characters from other books, movies or real-life stars would you insert into the adventure. Here's a few of our fave ideas:
1. Mulan as a Hunger Games tribute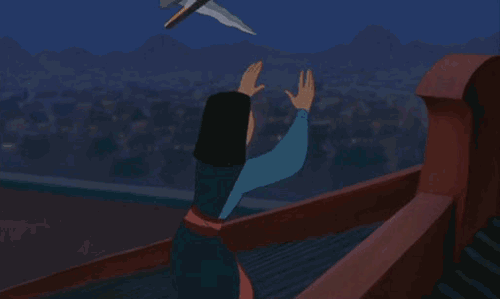 Mulan would definitely have the odds ever in her favour in 'The Hunger Games'. With her bravery and noble spirit, we'd love to see her form an alliance with Katniss.
2. Harry Styles as the magic mirror from Snow White
Can you imagine looking into the mirror each morning, seeing Harry Styles' beautiful visage and being told that you are the fairest of them all? Heaven!
3. Professor McGonagall as the Fairy Godmother from 'Cinderella'
McGonagall would make a fab Fairy Godmother. She's a transfiguration pro, so if any pesky ugly stepsisters act up, she'll be on hand to zap them into fruit flies. Plus, with her long flowing robes and jauntily positioned witch hat, we reckon she'd come up with one snazzy ballgown for Cinders.
Have you tried your hand at rewriting fairy tales? Give your stories a plug in the comments!